Posted by admin | Filed under BLOG


CNT1021 DDAY ONE – DIALOGUE WITH LIFE | VINYL (CLEAR) | CD | DIGITAL)
Out 28th October 2014

ORDER NOW

Dday One Shop: music.ddayone.com/album/dday-one-dialogue-with-life (Vinyl / CD / Digital)
Itunes: goo.gl/2RtWJM
Amazon: goo.gl/hO2wdn

Created over several seasons, "Dialogue with Life" emerged from profound introspection and solitude. It was during this period away from external static that Dday One was able to attune to the station within. Listening inward, ideas surfaced and being guided by the whisper of inspiration, these ideas were translated into music.
The cover features a photograph that was taken from Dday One's studio window one early morning during production. The image of clouds juxtaposed with communication wires is symbolic of the title and themes of the project. These themes include courage, gratitude, the physical world and spiritual ascension. The dreamlike imagery is further realized within the sacred geometry of two triangles which represent the duality of life.
Tags: content label, Dday One, dday one dialogue with life, new release, pre order
Posted by admin | Filed under BLOG

#10sdc
-Dday One
Tags: 10 second drum challenge, Beatmaking, Boss, Dday One, Doctor Rhythm DR-110, Drum machine, Drum Solo
Posted by admin | Filed under BLOG


Get Your Copy Here
http://music.ddayone.com/album/horizon-bound-peaking-7-vinyl

A side is classic Dday One. The Playdate stems are cut, flipped, rearranged, and hammered out on an sampler. Haunting and evocative, and the Playdate dub ethos is filtered through a hip hop aesthetic. The B features the very first moments of the Playdate concept. Mssrs Hertz and Ruptash were invited to Brooklyn and met Yusuke Yamamoto (Chimp Beams) and Jeremy Wilms (Chin Chin, Akoya Afrobeat, Fela Show Band) in the studio for the first time. Stems from this session were used for the "Peabody & Sherman's Playdate: Dub Workshop Vol. 1″ EP, and parts of this track, in particular, were used for the track "Drifting". "Peaking" is more or less the track as played, with some editing, dubbing, and the addition of some harmonica parts recorded in Oakland for a completely different session.
Order Now
http://music.ddayone.com/album/horizon-bound-peaking-7-vinyl
Tags: afrobeat, Dday One, dub, hip hop instrumentals, hip hop mixtapes, hip-hop, hip-hop/rap, los angeles, los angeles rap, peabody and sherman, remix beat
Posted by admin | Filed under BLOG, NEWS, SHOP
Due to demand for more copies, We Present the 2nd run of "Dday One's Heavy Migration" Photographic Ink Transfer Edition with handmade covers. Each copy was created by Dday One and hand-numbered. Only 33 copies have been made. Get it here: http://www.shop.thecontentlabel.com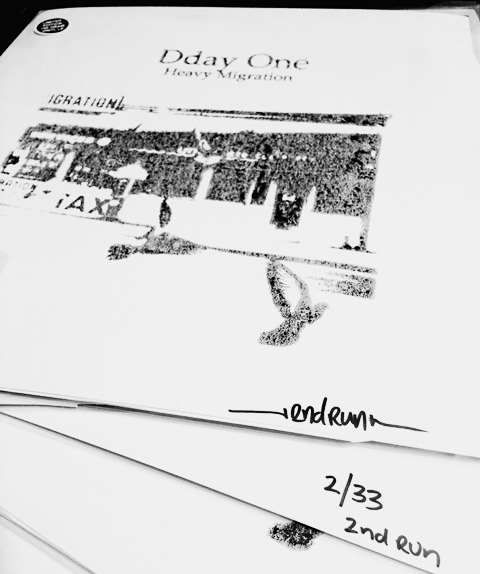 Tags: 2nd Run, Dday One, heavy migration, Only 33 Made, record store day, the content label
Posted by admin | Filed under MUSIC, NEWS, SHOP
Coming soon…very limited 7-Inch. Available at http://music.ddayone.com in a few weeks.
More info to come.
Tags: 7-inch vinyl, crosstalk international, Dday One, dday one remix, instrumental hip hop beats, limited vinyl, peabody and sherman
Posted by admin | Filed under BLOG, MIXES / DOWNLOADS, MUSIC, NEWS
Dday One – Mostly Instrumental by The Find Mag on Mixcloud

"Mostly Instrumental" is a sparkling new The Find guest mix by the Los Angeles based beat maestro. It's one hour worth of raw drum-heavy, sample-based instrumentals, including material by the likes of DJ Krush, Four Tet, DJ Shadow, Mr. Cooper, Damu The Fudgemunk, Long Arm, Latyrx, Mark The 45 King, and of course a ton of Dday One cuts and (unreleased) remixes.
Instrumental insanity from front to back. As of right now Dday One is recovering from a successful open heart surgery, so we wish him all the best! Eager for more? Then we highly recommend to check his vinyl releases like "Loop Extensions," "Heavy Migration" & "Mood Algorithms."
-The Find Magazine
Tags: Damu The Fudgemunk, Dday One, dj krush, DJ Shadow, Four Tet, hip-hop beats, instrumental hip hop, Latyrx, Long Arm, Mark The 45 King, mixes, Mr. Cooper, The find magazine
Posted by admin | Filed under BLOG, NEWS
Quick note! Just wanted to say thanks to everyone for your love, blessings and support. The open heart surgery went well and the recovery so far has been amazing. I know its due to our collective effort.
Peace -Dday One
Tags: Dday One, Tetralogy of Fallot